Iva Vladimirova was born is Sofia, Bulgaria. She graduated in Painting at the National Academy of Art in the class of prof. Ivan Kirkov. From
1987 she has been member of the Union of Bulgarian Artists. From 1989 to 2015 she has worked as teacher in painting and drawing at different
educational institutions: University of Architecture, Civil Engineering and Geodesy; Private Art Academy Jules Pascin; New Bulgarian University;
as well as the National Gymnasium for Applied Arts, the Professional
Gymnasium of Fine Arts and other schools. She is author of articles and reports for scientific and technical conferences on themes dedicated to
colour, form, space and the development of educational methodology in the realm of painting. In May 2009 her work "Theoretical and practical
methodology, educational and artistic results" was published and a catalogue from the exhibition "Students of NBU – education and
artistic individuality". Iva Vladimirova lives and works in Sofia. As painter Iva Vladimirova has specific individual expressive form which
stems from the essence of expression and has the goal to recreate the structure of a landscape or interior. She is inspired by nature and the
different states of light in closed and open spaces and by important themes in the personal and public sphere. Iva strongly believes in the
words of prof. Kirkov that the pictorial worlds are born by means of line, spot, colour, spirit, soul via sincerity and frankness so that the
paintings would not require to be explained but seen and directly experienced by the beholder.
Iva Vladimirova has had 20 solo exhibitions in Bulgaria, Austria, Croatia, Slovakia, Germany, Hungary, France and has participated in over
75 exhibitions in different Bulgarian cities and abroad. Her paintings are owned by the National Gallery, the Artistic galleries in Silistra,
Kardzhali, Plovdiv, Ruse and by private collections in Bulgaria and abroad.
At her latest exhibition at Shipka 6 gallery paintings on canvas and paper created in the last 10 years were shown. The paintings are part of
the following cycles: "The angels are flying away from the dome of the museum", "Gates", "The rock guardians of the Yayla are seen",
"The bridge and river Nap", "Self-referential", "Lights, shadows and reflections", "Something going on inside the building"
and others.
Other participations, residences and scholarships:
1991, two-month scholarship at the Cite Internationale des Arts, Paris.
2001, one-month scholarship at Kultur Kontakt, Vienna.
2003, prize for Painting by Veliko Tarnovo municipality – National exhibition of teaching painters.
2011, 45-day residence at Künstlerhaus, Schwandorf.
2018, nomination for Second national painting competition "Allianz Bulgaria".
1.The angels are flying away from the dome of the museum 100/ 70
2.The mermaid appeared with the ninth Adriatic wave. 65/92
3.Seeing the rocks in front . 65/ 92 .
4.The angels are flying away from the dome of the museum 100/70
5.The wave approaches 76 /114
6.The angels are flying away from the dome of the museum 104/73
7.The bridge , 80 /10
8.The rock guardians of the Yayla are seen. ,80/ 120
9.The window of the studio 100 на 90
10.Self-referential - 2 84 /118
11.Something going on in the museum gallery 84/119,5
12.Self-referential - 1 , 84 /119,5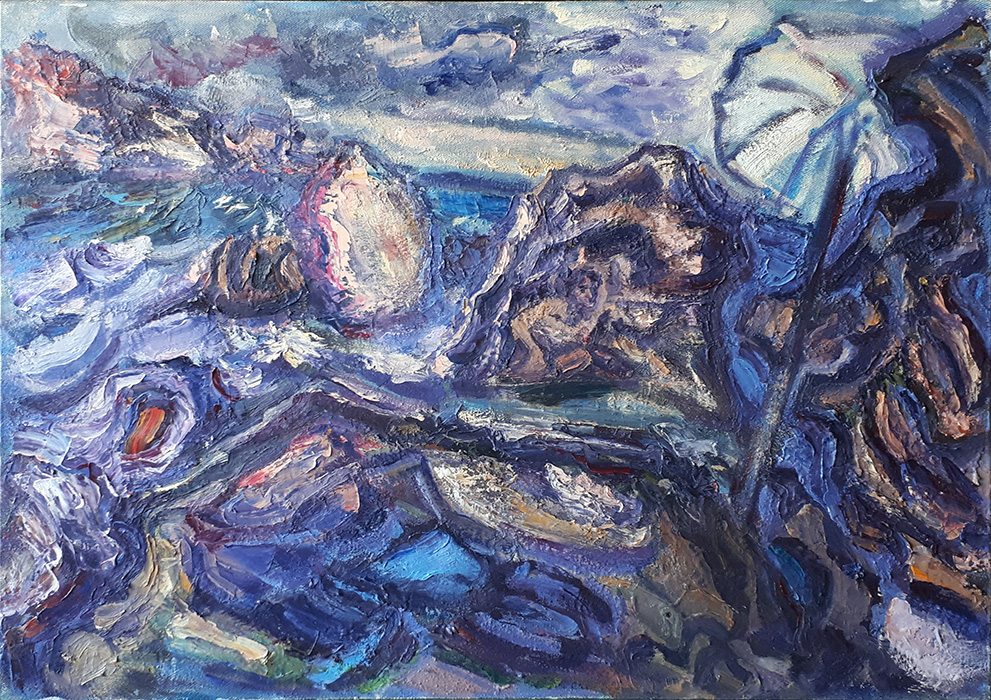 1.Ангелите излитат от купола на музея,100на 70
2.В деветата адриатическа вълна русалката доплува 65на 92 см.
3.Гледам в скалите насреща 65на 95
4.Ангелите излитат от купола на музея, 100на 70
5.Вълната идва, 76 на 114
6. Ангелите излитат от купола на музея, 104на 73
7.Мостът, 80 на 10
8.Пазителите скални в Яйлата се виждат,80 на 120
9.Прозорецът от ателието, 100 на 90
10..Автобиографично 2, 84 на 118
11.Нещо се случва в залата музейна, 84 на 119,5
12..Автобиографично 1, 84 на 119,5